A Complete Buying Guide for Type-C USB Cables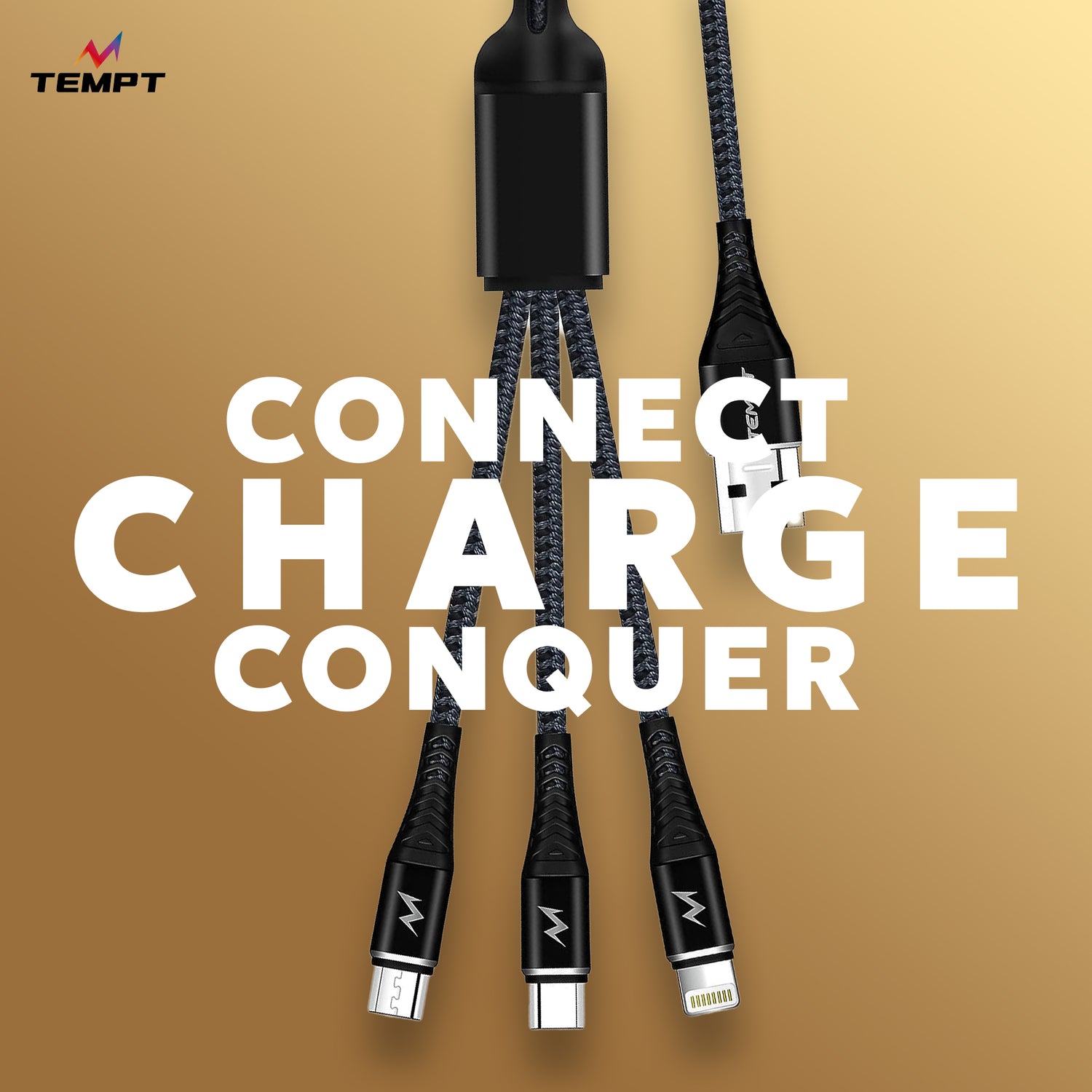 Welcome to a world where technology seamlessly integrates into our everyday lives. In a world where technology rules, maintaining a connection is essential. Whether you are transferring data between devices or ensuring your gadgets stay charged, the quality of your cables matters a lot. Introducing Tempt's detailed Type-C USB cable buying guide, the perfect solution for all your charging and data transfer problems and needs.  
 
The importance of high-quality cables cannot be overstated when it comes to sharing important data among devices or maintaining the power of our beloved devices. Join us on a journey as we present a comprehensive buying guide specifically designed for Type-C USB cables. 
Type-C USB Cables
Type-C USB cables, crafted with the best material cables, have reorganised the way in which we connect and charge our devices. With their reversible design, lightning-fast data transfer speeds, and universal compatibility, Type-C cables, made from the best material cables, have become the gold standard in modern connectivity. Tempt brings you a range of innovative Type-C USB cables, ensuring the use of the best material cables, combining innovation, durability, and style. 
Best Data Cable
The data cable, the main tool in any tech enthusiast's toolbox, is at the core of effective data transfer. The Infinity 3-in-1 Universal Cable and the Twist Braided with Aluminium Shell USB to Type C Cable are two outstanding products from Tempt that redefine the standards of excellence. 
Infinity 3-in-1 Universal Cable
The Infinity 3-in-1 Universal Cable rules the competition in terms of top-notch performance and an extraordinary level of durability, without any doubt. The Infinity 3-in-1 is packed with various jaw-dropping features as mentioned below:  
Fast Charging Experience: The Infinity cable ensures a quick and effective charge for your devices with a remarkable fast charging speed of up to 3 amps. Bluetooth speakers, smartphones, and other mobile devices are all supported by this cable. 
Wide Compatibility: This cable is a perfect partner for your variety of gadgets thanks to its simplicity of simultaneous charging for Android, iOS, and Type-C devices. This reduces the clutter of unnecessary cables. 
Outstanding Durability: Made of braided material, this cable is designed to withstand more than 10,000 bends, making it exceptionally tough and durable. This helps it to sustain any amount of wear and tear regularly. 
High-Speed Data Transfer: The Infinity cable supports speeds of up to 400 Mbps and ensures smooth and quick data transfers, saving you valuable time by safely transferring your important data. 
Customer Support: Tempt guarantees that your purchase is supported by dependability and assistance with a 1-year warranty and warm customer support. 
Twist Braided with Aluminium Shell USB to Type C Cable
The Twist Braided with Aluminium Shell USB to Type C Cable completely reinterprets what it means to have a cable made for durability and top-notch performance. Following are some of the benefits of using this cable. 
Extremely Reliable: This cable comes in its classic braided design and aluminium shell, making it your reliable partner. 
4 Core Technology: This cable guarantees ultimate speed and optimum data transfer and charging as it is equipped with a 4-core configuration.  
Tangle-Free Design: The braided cable design ensures smooth and hassle-free usage, so you do not have to stress about anything.  
High Compatibility: This cable offers universal compatibility, because of which you can charge all your devices, from Bluetooth speakers to smartphones.  
Superior Performance: The solid wire core and aluminium housing ensure safe and reliable charging, delivering the best performance with every use. The performance of this cable is independent of the number of uses. 
Customer support: Tempt promises a satisfying and long-lasting experience and backs it up with a one-year warranty and warm customer service. 
Mobile Charger Cable
Type C cables are not just used for data transfer, these cables also play an especially key role in our daily lives, ensuring our smartphones, tablets, and other portable devices remain powered up for our hectic lifestyles. The user-friendliness of the reversible Type-C connectors also makes it simple to plug in devices in any orientation. Choose cables with sturdy construction, such as reinforced connectors and long-lasting sheaths, to ensure longevity. Fast charging adaptability should always be taken into consideration when choosing a mobile charger cable to reduce charging duration. A carefully selected mobile charger cable not only powers up your devices effectively but is also able to withstand daily use and wear and tear, improving your overall experience. 
Cable Price: Affordable Quality at Your Fingertips
We do not believe that good cables must be Expensive. We believe that the technology should be accessible to each person which makes it cost-effective. We offer a top selection of Type-C USB cables that are both cost-effective and high-performing. You can have it all without having to forgo quality to stick to a budget, with the cables from Tempt. 
Conclusion 
In a technically advanced world where connectivity between all devices plays a significant role, the cables you choose can make a major difference in your daily productivity. The Tempt Type-C USB cables offer a complete solution for data transfer and device charging at your fingertips. Because of constant innovation and research, the Tempt has brought highly advanced Type C cables to improve your connectivity. So now do not wait and pick up Tempt cables to keep your connection strong and fast.