What Makes a Watch the Best Smartwatch?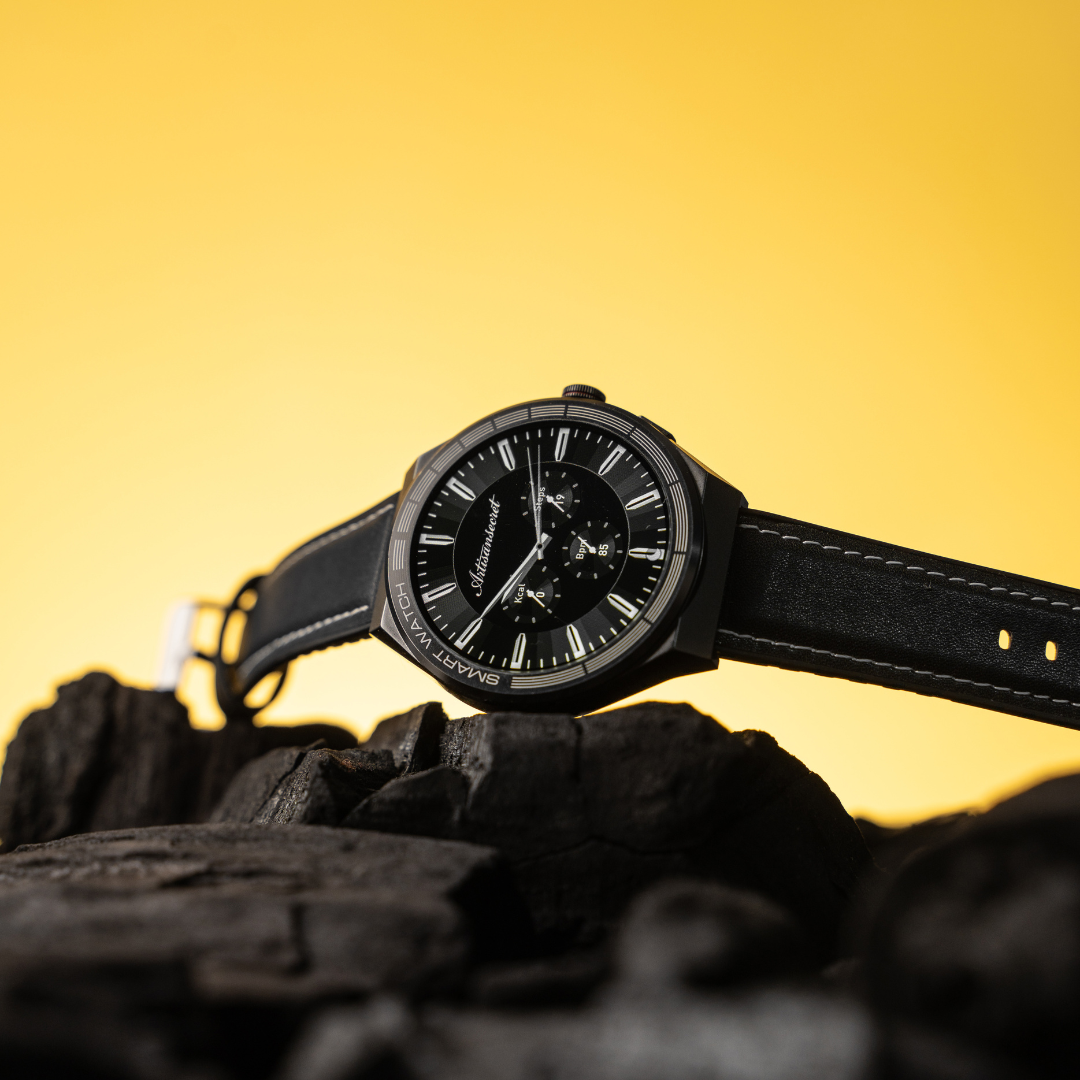 Best Smart Watch
Smartwatches have become fashionable companions of modern life in the constantly changing world of wearable technology, flawlessly combining convenience, style, and utility on our wrists. Finding the finest smartwatch involves investigating a sophisticated fusion of features, design, and performance that work together to produce an unmatched user experience. So, what distinguishes the finest smartwatches from the rest?  
Let's explore the key components that combine to create the peak of wearable innovation. 
Features of a Smartwatch
The smartwatch is a fascinating marvel that has been bestowed on us by the development of wearable technology. The smartwatch has evolved into a necessary companion for individuals looking for a seamless fusion of elegance, convenience, and health-conscious living thanks to the multitude of features crammed into its small shape. 
Let's examine in more detail the main characteristics that turn the smartwatch into a sophisticated instrument for contemporary life. 
Step Counter

: Your dependable step counter does more than just keep track of your steps. It serves as a silent motivator for you, softly encouraging you to be active all day. The step counter keeps a close check on your physical activity, motivating you to move towards a healthy lifestyle whether you're achieving daily fitness objectives or taking mindful walks.

 
Heart Rate Monitor:

The heart rate monitor, a watch's watchful guardian, is hidden beneath its fashionable appearance. This feature records your heartbeat in real-time and provides information about your cardiovascular health and level of exertion during exercise. You may tailor your workouts with the help of a continual stream of data, ensuring that your heart remains the centre of your well-being.

 
Blood Pressure Monitor:

By including a blood pressure monitor, your smartwatch becomes a portable health station. By utilizing cutting-edge technology, this feature provides a window into your circulatory health, enabling you to keep track of your blood pressure patterns and make wise lifestyle decisions.

 
Calorie Counter

: The calorie counter tool makes it simple to manage your caloric intake. Your activity data is analysed by smartwatches to determine how many calories you burn each day. You can use this knowledge as a useful tool to make educated eating decisions and maintain a healthy lifestyle.

 
Alarm Reminder:

Your smartwatch's gentle vibration acts as a nice reminder of your daily routine for you. The alarm reminder feature gives structure to your day and easily fits into your routine, whether it's getting up feeling refreshed, taking a break from your work, or going to a crucial meeting.

 
Smartwatches For Men in India  
Zebronics Iconic LITE 
Experience the ultimate convenience of this smart watch with calling function. Discover the Zebronics ICONIC LITE Bluetooth watch with AMOLED display, Always-ON feature, and 1.78" 2.5D Curved Display. Customise with 10 built-in watch faces, games, and dual menu UI. IP67 Waterproof certified for indoor/outdoor use. Enjoy 250mAh rechargeable battery, Bluetooth calling, voice assistant support, heart rate, SpO2, blood pressure monitoring, 100+ sport modes, sleep tracking, camera/music control, weather forecast, data storage, and 24-hour heart rate monitoring. Get app notifications via ZEB-FIT 20 SERIES. Unisex metal design with optional strap and colours for a perfect fit. Elevate style and function with the ICONIC LITE. The watch support both Android and iOS. 
boAt Xtend 
Experience innovation in communication with a smart watch withcalling function. Meet boAt Xtend, your voice-controlled ally featuring a built-in Alexa Voice Assistant for reminders, questions, and alarms. Take command of your music's volume. Embrace a 1.69" square colour LCD with complete touch control and customizable watch faces. Ambient light adjusts brightness to your surroundings. Monitor stress, heart rate, SpO2, and sleep stages. With 14 sports modes and 5 ATM resistance, it's your ultimate fitness partner. Lasts 7 days per charge. Inclusions: Watch Xtend, USB Magnetic Charging Cable, User Manual & Warranty Card. Note: Heart Rate and SpO2 are not for medical use. Improve health and style seamlessly. 
Tempt Edge Pro
Introducing TEMPT Edge Pro - Enhance your lifestyle with a Smart Watch with calling function. Make and receive calls effortlessly with its built-in speaker and microphone. A 1.51" Best AMOLED Display with 480 nits brightness captivates. IP67 is Water Resistant, it stands strong against elements. The unique Rotating Multi-Functional Button adds convenience. 
Control your world from your wrist - reminders, alarms, weather forecasts, music, and more. AMOLED display, adapt brightness, and customizable watch faces match your style. Sedentary alerts keep you moving, while sport modes and IP67 resistance make it your fitness ally. Monitor heart rate, SpO2, and sleep health. Notifications? Stay updated, all in one place. 
The best smartwatches on Amazon 
Fire-Boltt Ninja Call Pro Plus 
Embrace excellence with Fire-Boltt Ninja Call Pro Plus. A 1.83" HD display dazzles at 280 NITS peak brightness. Revel in 8-day battery life (5 days with calls) on a 2-hour charge. AI Voice assistants simplify tasks, while Bluetooth calling adds convenience. Social media alerts, call notifications, SpO2, Heart Rate, Sleep tracking, and 100+ sports modes enhance life. Fire-Boltt Health Suite ensures precise readings. Elevate style, health, and functionality seamlessly with this masterpiece. Rest assured, this product is fully equipped to support Android and iOS. 
boAt Wave Lite
Introducing a smartwatch equipped with calling functionality. Upgrade your style with the boAt Wave Lite. The 1.69" HD touch display, boasting 500 nits brightness, brings your world to life. Revel in sharper colour resolution. Its slim, lightweight design keeps you surfing your wave all day. Choose from multiple sports modes, track calories, and steps, and stay sweat-free with IP68 resistance. Customise with 140+ watch faces. Seamlessly monitor health with Google and Apple Fit. Enjoy up to 7-day battery life, music volume control, and versatile applications. Inclusions: Wave Lite, USB Magnetic Charging Cable, User Manual & Warranty Card. It's not just a watch; it's your lifestyle enhancer. Experience smooth functionality with support of Android and iOS. 
Tempt Verge
Discover TEMPT Verge - your efficient lifestyle and fitness companion. Effortlessly set alarms, and reminders, receive social updates, and weather forecasts. With 60+ multi-sport modes and IP67 resistance, it's tailored for sports enthusiasts. 
Experience the large 1.83-inch square IPS display, complete with customizable watch faces. Its adjustable brightness of 450 nits ensures optimal visibility in any light, making it ideal for health-conscious individuals. 
Health sensors monitor your heart rate, SpO2, sleep, calories, and mileage. Stay connected with direct calls and real-time notifications, keeping you in sync with messages, hydration alerts, and social media. TEMPT Verge blends style, efficiency, and fitness in a sleek package. Stay connected on the go with a smartwatch that supports calling.