Lumina: The 4-in-1 Wireless Charger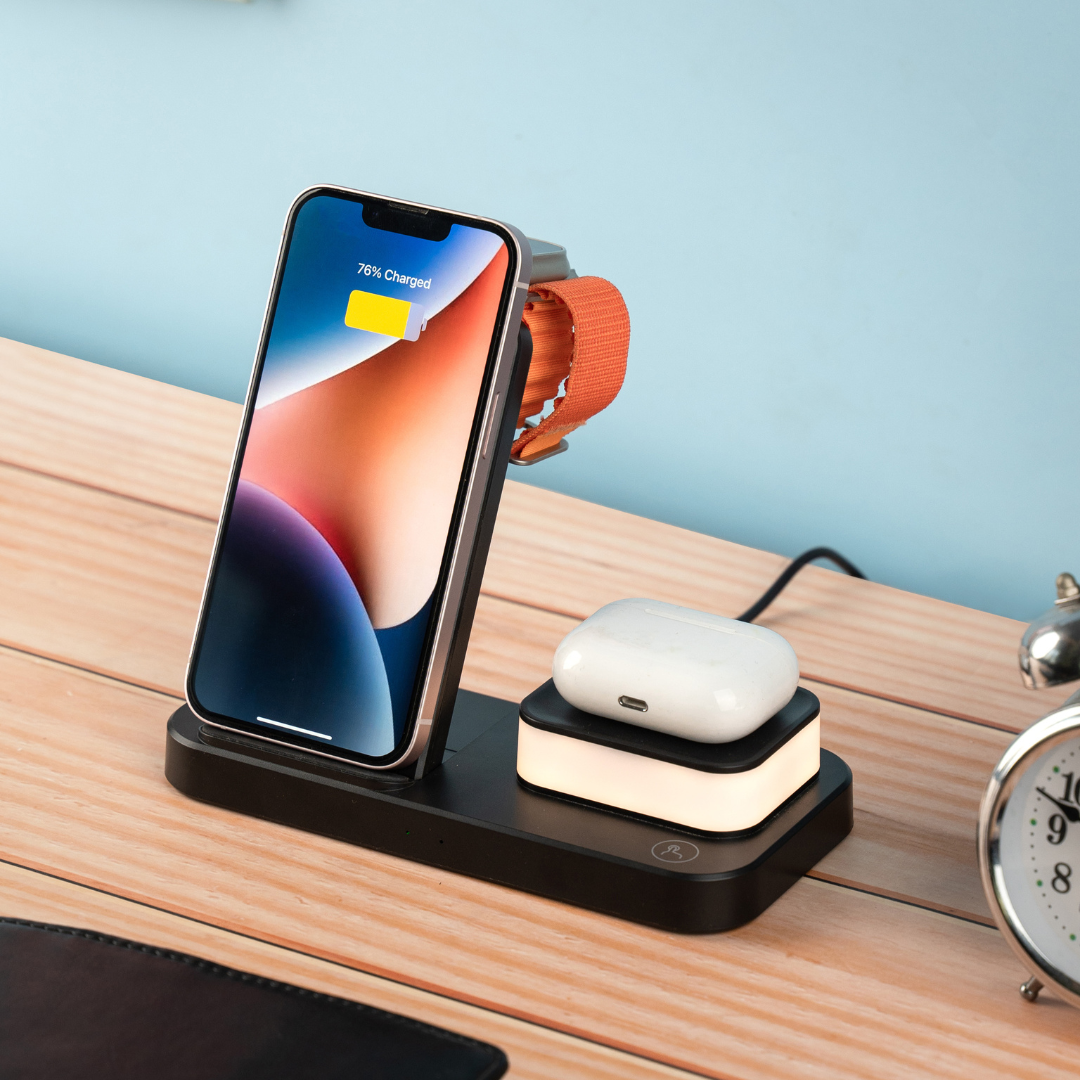 Are you tired of the daily struggle that comes with managing a web of tangled charging cables, enduring frustratingly slow charging speeds, and facing the chaotic sight of cluttered charging stations? The relentless search for an efficient, streamlined charging solution is finally over. Allow us to introduce you to Lumina, the 4-in-1 Wireless Charger that is poised to transform the way you power up your devices. 
Lumina is a revolutionary advancement in charging technology, not just another charging accessory. Imagine a time when you would not need to worry about tangled cords or multiple chargers, which are both inconvenient. You are setting out on a journey toward a smooth, effortless charging experience with Lumina by your side, one that is tailored to fit your contemporary lifestyle. 
The Best Charging Device
Lumina takes charging convenience to a whole new level. The hassle of balancing multiple chargers for your phone, smartwatch, and wireless earbuds is over. You can charge a variety of devices, including the most recent Galaxy and iPhone models, OnePlus devices, and more, thanks to Lumina's broad compatibility. This adaptable charger can produce multiple wattages, guaranteeing that your devices receive the ideal amount of power for a quick and effective charge.  
Experience Lightning-Fast Charging Device 
We are aware that time is of the essence and that it is no longer acceptable to wait while your devices charge. Your phone, smartwatch, and TWS earbuds all receive lightning-fast power thanks to the fast-charging technology. You can quickly regain full power with a phone charger that can charge at a rate of up to 15W. Also, you should not worry about your smartwatch or earbuds because Lumina covers them all by offering 3W and 2W charging, respectively, to keep them charged and ready to go when you are. 
Charger with a Night Light
However, it is more than just a charger; it also gives your space a stylish touch. Your bedside table is made more elegant and practical by the built-in lamp feature. With a simple touch, you can change the lamp's brightness to set the ideal mood for unwinding at night. With this by your side, you will never have to struggle in the dark to find your charger because of its soft glow. 
The engineering innovation behind Lumina is clearly visible in its modern design. Your devices will remain firmly in place while charging thanks to the matte finish surface and anti-slip pads. It is incredibly portable thanks to its foldable design, making it ideal for road trips and people on the go. As long as your phone case is under 5mm thick, you can charge it without having to take it off because it is compatible with Mag-Safe cases. 
Organize Your Space
You will never have to worry about tangled cables covering your nightstand or desk. You can streamline and organize your charging devices with a single unit thanks to this cutting-edge wireless charging solution from Tempt. The charging status of your devices will be indicated by an easy-to-read LED light when you simply place them on the charging pad. It's as simple as that, no more worrying about an uncluttered desk because of multiple cables. 
Regarding compatibility, Lumina is a true powerhouse. It caters to all tastes, whether you prefer Apple or Samsung. The Galaxy Note 20/10, S22 Series, iPhone 13 Series, OnePlus 9, and other devices with 15W, 10W, 7.5W, and 5W outputs are supported by Lumina. It does away with the requirement to change between various chargers for various devices. 
Lumina is a 4-in-1 Wireless Charger that combines convenience, speed, and style to up your charging routine. Welcome to a time when things are always ready to use, there is no clutter, and devices charge quickly. You can charge in a way that you have never done before thanks to the power of Lumina.