Tempt best power banks for long-lasting performance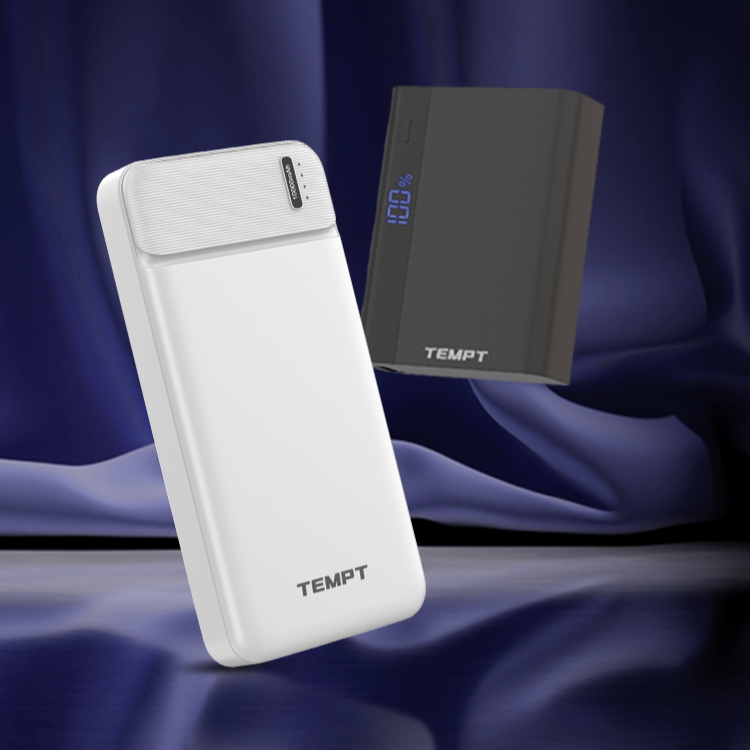 Staying connected is essential in today's fast-paced world, whether it's for work, fun, or crises. Nevertheless, our electronics frequently lose power at the most inconvenient times. That's when a dependable power bank is useful, and the Tempt Power Bank stands out from the competition in terms of long-lasting performance. In this article, we'll examine the benefits of using a power bank, look into the advantages of quick charging, and highlight why the Tempt Power Bank is the ideal option for a portable charger with a long-lasting battery.
Advantages of Using a Power Bank
1. Convenience on the Go:
Say goodbye to the stress of running out of charge during a crucial call or when navigating a strange city if you have a power bank in your purse or pocket, wherever you are, you can conveniently charge your devices with the help of power banks.
2. Device Compatibility:
A variety of gadgets, including smartphones, tablets, smartwatches, and even cameras can be charged using power banks. With this adaptability, you may use one device to charge all of your necessary equipment.
3. Emergency Power Source:
Natural calamities and power outages might deprive us of electricity for a long time. During emergencies, a power bank serves as a dependable backup power supply that enables you to make crucial calls, transmit messages, or even power vital medical gadgets.
Fast Charging Power Bank
Fast-charging power banks are a game-changer when it comes to quickly replenishing your devices' battery life on the go. Tempt's range of power banks, including the Storm, Fuel, and Booster models, are equipped with advanced fast charging technology, ensuring efficient charging speeds for your devices. Tempt's fast-charging power banks are designed with convenience in mind, allowing you to spend less time waiting for your devices to charge and more time using them. Whether you're travelling, working, or enjoying outdoor activities, these power banks deliver rapid charging capabilities to keep you connected and powered up throughout your day.
Long-Lasting Battery
1. Extended Power Supply:
The Tempt Power Bank boasts a robust battery capacity that provides multiple charges for your devices. Whether you're on a weekend camping trip, a long-haul flight, or a busy workday, the Tempt Power Bank keeps you powered up, eliminating the worry of running out of battery.
2. Durable and Reliable:
Constructed with high-quality materials, our power bank is built to last. Its rugged design and reinforced casing protect against accidental drops, bumps, and scratches, ensuring it remains a reliable companion wherever you go.
3. Intelligent Battery Management:
To maximise battery life, the Tempt Power Bank employs intelligent battery management systems that optimise power usage and minimise energy wastage. This ensures that the power bank remains efficient and reliable over an extended period.
Best Portable Charger
When it comes to portable charging solutions, our power banks are at the forefront of innovation and convenience. Designed with the modern lifestyle in mind, Tempt offers the best portable chargers that are compact, lightweight, and easy to carry wherever you go.
Tempt's power banks are featherweight, so they will easily go into your pocket, bag, or backpack. You are no longer concerned with heavy chargers pulling you down. The ergonomic shape of our portable chargers makes them easy to grasp and slot into any purse or pocket without adding extra bulk.
The dependability and toughness of portable power banks are what set them unique. Because these power banks are designed to survive daily use, they can resist the rigours of travel, outdoor activities, or even just regular use.
Despite its compact size, our portable power bank packs a punch when it comes to charging capabilities. They are equipped with high-capacity batteries, allowing you to charge your devices multiple times before needing to recharge the power bank itself. This extended power supply ensures that you can stay connected and powered up for extended periods, whether you're on a long journey or spending a day out and about.
Introducing Tempt's Power Bank Lineup: Storm, Fuel, and Booster
Are you tired of your devices running out of battery at the most inconvenient times? Do you find yourself constantly searching for a power outlet or carrying around a tangle of charging cables? It's time to break free from the shackles of low battery anxiety and embrace the power of Tempt's exceptional power bank lineup. With their cutting-edge technology, sleek designs, and unmatched performance, Tempt's power banks are here to revolutionise your charging experience
Tempt Storm
Prepare to face any challenge with the Storm power bank by your side. As its name suggests, this power bank is a force to be reckoned with. With its high capacity of 10000 mAh, the Storm power bank ensures a continuous power supply for all your devices. Its 12W fast charge capability replenishes your devices quickly, keeping you powered up and ready to go. The LED battery indicator provides a clear view of the power bank's remaining charge, allowing you to plan your charging needs. The Storm power bank offers multiple charging options, ensuring compatibility with various devices. With a focus on safety, it incorporates advanced technology to protect your devices from overcharging and overheating. Experience the storm of power with the Storm power bank by Tempt.
Tempt Fuel
Say goodbye to waiting and hello to instant power with the Fuel power bank. Designed to provide lightning-fast charging, the Fuel power bank is a game-changer in the world of portable chargers. With its 10000 mAh battery capacity, it offers ample power to keep your devices running. The 22.5W fast charge capability ensures rapid recharging for both the power bank itself and your devices, minimising downtime. The Fuel power bank features an LED display, allowing you to monitor the remaining battery level and make informed charging decisions. Just like all Tempt power banks, it prioritises safety, offering protection against overcharging, overcurrent, and short circuits. The Fuel power bank is your trusted companion for on-the-go charging.
Tempt Booster
When it comes to long-lasting power, the Booster power bank has got you covered. With its impressive 10000 mAh battery capacity, it ensures an extended power supply for your devices. The LED battery indicator lets you know the remaining charge, so you can plan your charging accordingly. The Booster power bank features dual USB ports, allowing you to charge two devices simultaneously, making it perfect for multitaskers. It prioritises safety with advanced protection mechanisms, ensuring a worry-free charging experience. Whether you're travelling, working, or exploring the Booster power bank provides a reliable and efficient power solution.
Conclusion
The Storm, Fuel, and Booster variants of Tempt's power banks are the pinnacle of dependable and powerful portable chargers. These power banks deliver a seamless charging experience for all of your devices thanks to their amazing features and capabilities.
Our power bank stands out among other power banks thanks to its enduring performance, quick charging abilities, and remarkable dependability. It offers a potent way to keep your gadgets charged while you're out and about, whether you're a regular traveller, an outdoor enthusiast, or just someone who appreciates remaining connected. Purchase the Tempt Power Bank right away to enjoy the flexibility of constant power!