Say Goodbye To Messy Cords & Tangle Wires - Get Tempt's Best Neckbands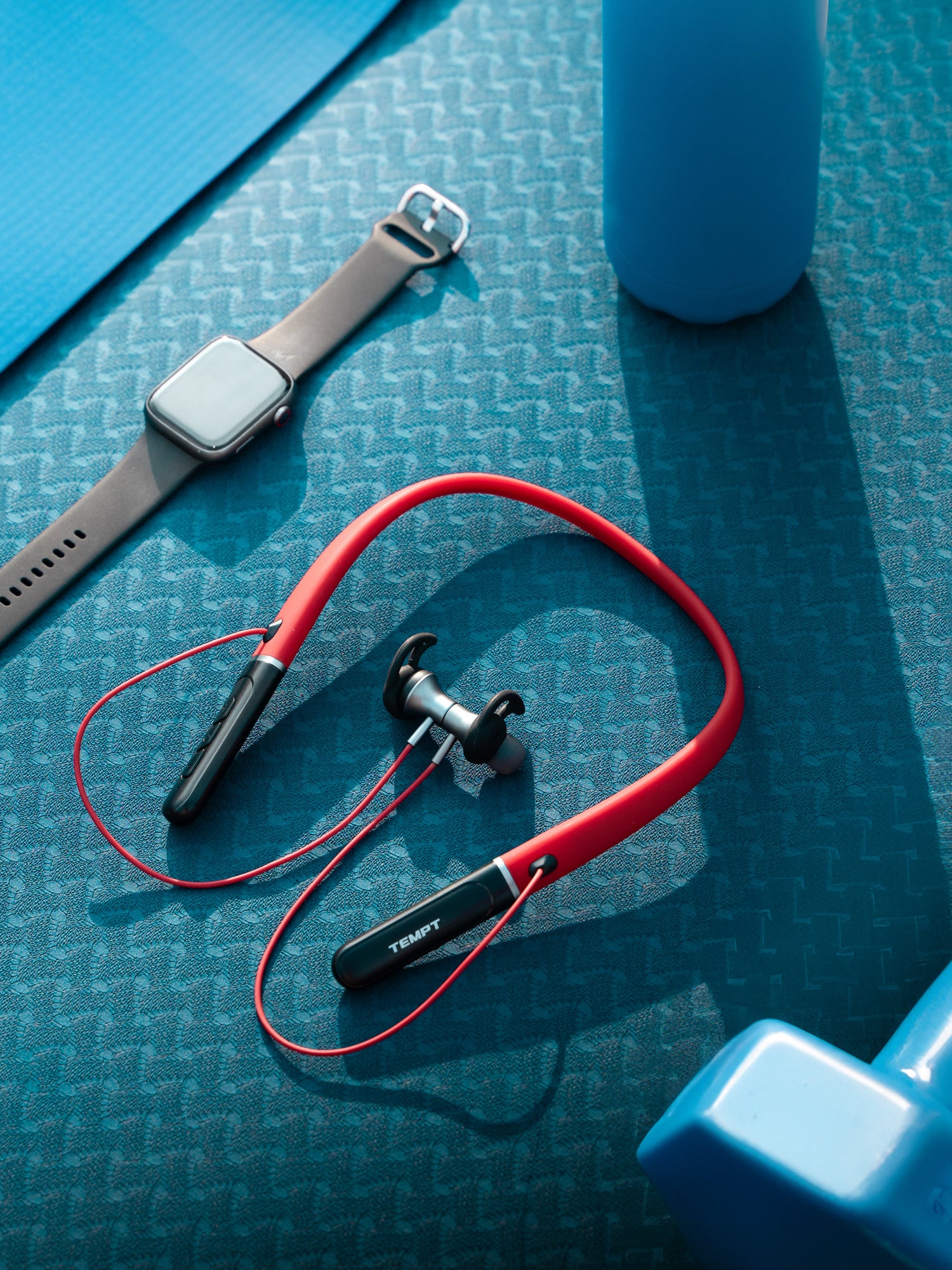 Are you tired of dealing with messy cords and tangled wires when it comes to your earphones? So, now is the time to switch to a neckband. We'll explore the world of neckband earphones, highlighting some of the best options available, including the best sound-quality neckbands and the key features that make them stand out from the rest of the neckbands on the market.
Best Neckbands
Neckband earphones are now preferred by a lot of music enthusiasts and people who are constantly on the go, because of the ease of carrying them. Over-ear headphones that are too heavy or have tangled cords, because of which people generally like wireless neckbands. The neckband's distinctive style offers all of the three: comfort, practicality, and style. Because of this, it has become one of the favourite wearable devices.
Top Neckband Earphones
Choosing the right neckband is necessary so that you can rely on it for each of your daily tasks. To check if the neckband is the right fit for you, here are a few characteristics that you should be checking before buying them.
1. Sound Quality
One of the most crucial elements that should be taken into account when purchasing a neckband is sound quality. High-quality neckband earphones produce crystal-clear audio, while neckbands of lower quality have issues with low bass, poor clarity, and unbalanced audio. You can fully enjoy your favourite music, podcasts, or audiobooks with the help of high-quality neckbands because they offer a rich and immersive audio experience.
2. Comfy and Fit
To make sure that you can use the neckband for a longer period, it must fit comfortably. Neckbands of lower quality have problems like an uncomfortable fit and frequent tangling. Whatever the activity, a good neckband should be comfortable to wear. To prevent neckbands from becoming a hassle for you, always look for models that offer straightforward and cosy designs.
3. Battery Life
One of the advantages of neckband earphones is their extended battery life. The battery life of the neckbands should be good enough to last for long hours. The best neckbands offer hours of playback time on a single charge, ensuring you can enjoy your music all day long.
4. Wireless Convenience
High-quality neckband earphones are made so that the wires do not tangle and are known for their convenience. So, to ensure a hassle-free experience, it is always preferable to buy high-quality earphones.
5. Durability and Build Quality
Earbuds with a neckband should be robust enough to withstand normal use. High-quality neckband headphones are made to last. They are a dependable option for people who lead active lifestyles because they are frequently sweat-resistant and made for everyday use.
Bluetooth Neckband Under 2000
If you're on a tight budget, don't worry we have found a few very good options for you under 2000 rupees that offer great value for your money. The below-listed neckbands are affordable, but they do not compromise quality.
Spirit Neckband
Rs. 1,199.00
Specifications:
OxyAcoustics Technology: The Spirit is designed for high-quality and transparent audio with the help of OxyAcoustics Technology.
Gaming Mode: Low Latency Gaming Mode for best gaming experience, so your gameplay does not suffer delay.
Charge For 10 minutes Play for 2 hours: The neckband offers 2 hours of playtime in just 10 minutes of charging.
Long Battery Life and Fast Charging: 30-hour Playback time
IPX4 Water Resistant: Use without any worries whether you are outdoors or at the gym as Tempt Spirit is IPX4 water and sweat-resistant.
BLiNK Fast Pairing Technology: Designed with the latest Bluetooth 5.2 technology, the neckband pairs super-fast with your devices.
Large bass drivers: 14.2mm large bass drivers, which make your music more lively.
Sport Neckband 
Rs. 1,099.00
Specifications:
Powerful Battery: Tempt Sport wireless Bluetooth neckband can play all day! With 25 hours of playback, the Tempt Sport neckband provides nonstop entertainment throughout the day.
OxyAcoustics Technology: Get ready for a sound experience like no other with Tempt OxyAcoustics Technology, which provides clearer tones and punchier bass.
IPX4 Water & Sweat Resistant: A wireless earphone built for the outdoor lifestyle. Ready to tag along anywhere with you, may it be the gym or a holiday.
XNC: Every entertainment experience is elevated with Xtreme Noise Cancellation. Get clear and pure sound in any situation, no matter how crowded it is.
Easy to use and carry: single click to play/pause. Enjoy a holistic experience with the Tempt Sport wireless neckband.
Auto Pairing: Tempt Sport neckband features auto pairing, so you can connect it automatically.
Large bass drivers: 10mm large bass drivers for the best entertainment experience with punchy bass.
Groove
Rs. 1,199.00
Call Quality: A crisp and clear microphone provides precise voice detection even in noisy environments.
Long Battery Life & Fast Charging: 28-hour playback time with 1hr charging
IPX4 Water Resistant: Use without any worries whether you are outdoors or at the gym, as Tempt Groove is IPX4 water and sweat-resistant.
BLiNK Fast Pairing Technology: Designed with the latest Bluetooth 5.2 technology, the neckband pairs super-fast with your devices and transmits higher-quality audio.
Dual Pairing: This neckband features dual pairing so that you can connect two devices at once.
Voice Assistant: Check the weather, news, and latest cricket scores with a single press, on Google and Siri with its single press voice assistant.
Large bass drivers: 10mm large bass drivers.
Gaming Mode: Low Latency Gaming Mode
Wireless neckbands are the future of personal audio. With no cords to tangle or limit your movement, they provide a hassle-free listening experience. Whether you're working out, commuting, or just relaxing at home, wireless neckbands offer the ultimate in convenience.
Conclusion:
Neckband earphones have transformed personal audio by getting rid of unsightly cords and offering a fashionable and cosy listening experience. There is a perfect neckband waiting for you, whether you are looking for the best neckband earphones with outstanding sound quality or inexpensive Bluetooth neckbands under 2000 rupees. Now say no to tangled wires and embrace the wireless ease of neckbands for a more enjoyable and hassle-free listening experience.